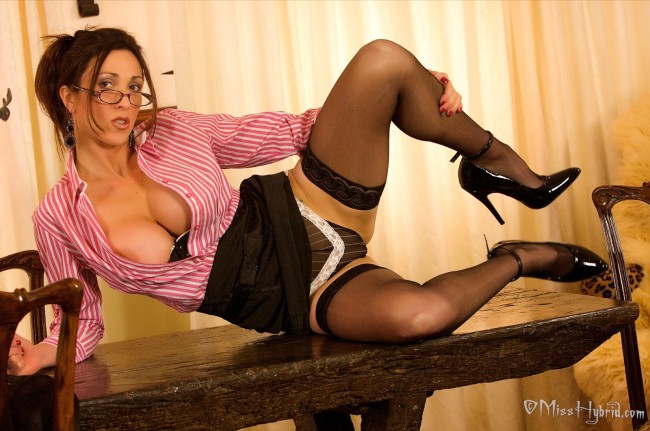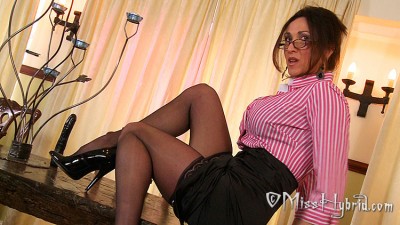 Mike and Mistress Hybrid, now alone, wordlessly look at each other for what seems an eternity before Mike moves forward and picks up Mistress H, placing her on the table. Spreading her stocking clad legs, he kneels down and buries his head into her crotch, licking at her pussy through her delicate black panties then pulling them to one side so that his tongue can get better access to her warm wet lips.
"Aahhhhh" she gasps as Mike's tongue traces over her cunt lips. "Oh my god, oohhh, ahhhhh. Oohh god, yes. Take my panties off Mike. I want you to eat my cunt."
Mike hooks the string of material on either side and slowly pulls the panties over her thighs and ankles. Before he discards them he first sniffs at the gusset then runs his long tongue over the length of the inner material before stuffing them inside his trouser pocket.
Dropping back down, his tongue starts to work overtime on her pussy, flicking her clit, engulfing his mouth over her whole pussy, liberally applying saliva all over her so that her cunt shines in the light as he comes up for air.
Mistress Hybrid starts to unbutton her pink blouse revealing a lacy black bra underneath, barely capable of holding her magnificent tits as her long stiff nipples peer over the top of the cups. As her blouse flaps open Mistress Hybrid starts to massage her tits then uncouples the back of her bra, tossing it away. Once free she pulls at her already stiff nipples, the skin of her breasts pulled taught as she stretches her nips to excessive length.
Do you want more of me?