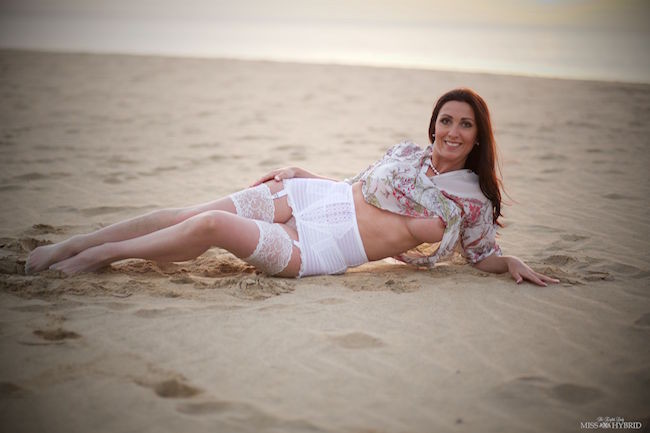 Carry On Canaries Miss Hybrid's Latest Newsletter
All the latest news from The Estate of Miss Hybrid and her International adventures
Miss Hybrid is in paradise, it was hot.
I decided to do a very quick, spur of the moment, handycam capture in my favourite sunny location. Can you guess where I am? 
This is from my latest update, taken on a scorching hot day.
I love to walk along the nudist sands dressed like this and then slowly peel my layers off. It causes far more of a stir than if one just gets her kit off! Anyway, on route to the dunes, I was a little overdressed and getting very hot in the car. I had to get out and cool off.  Everything became a little moist! There is nothing like a spot of public disrobing to get things going. It is even better when you capture it, real time, to share later! Have you spotted the damp area on the back of my sarong? I wonder how that happened? Who did that?
Come on boys, quiet in class or I'll flex my cane in your direction.
Just before leaving on my mini break I decided to take a few relaxed test shots in my schoolmistress clothes. I wear these when dealing with very wayward boys. When you see what develops, you will find that I would like to enlist your help on a project dear to my heart. I am not going to tell you what the project is, you must watch the video to find my message.
Hint: The clue to where the message is hidden, lies in the general direction I hope you will be looking at. Hint mine are an E cup!
Once you receive the hidden message, I hope you do all your homework as per my instructions and then submit me an email to confirm you have completed all the tasks. It may sound cryptic but all will be revealed… no change there!!
Here is a screen capture from another of my coming videos. I wore my tight, rubber catsuit, corset, laced gauntlets and spiked boots. This view is the one from my lowly Personal Assistant – Felix's camera (can you tell he spends his life grovelling on his knees?). The video has not yet been released, nor has he.
Kisses
Miss Hybrid